Tadpole Gasket Tape, silicone coated fiberglass with 304 SS Hollow Core Mesh core. 500 F. This unique double strain hollow core mesh offers a superior compression factor and excellent resiliency.

Tadpole Gasket, fiberglass cover with braided fiberglass rope core, 1000F. 10-MDB is a typical tadpole seal to meet a wide range of sealing applications.

Bulb seals for cover materials. Left to right. P/N 10-SCM- Stainless steel or inconel solid core mesh, P/N 10-HCM stainless or inconel hollow core mesh. P/N 10-MDB medium density braided fiberglass rope core.
ATTENTION: POWDER COATERS, CUSTOM FABRICATORS, FOOD PROCESSORS, BBQ/PIT SMOKERS, AND MORE…
FIND ALL THE TADPOLE GASKET TAPES FOR YOUR POWDER COATING OVENS AND SPECIALITY FURNACE SEALING REQUIREMENTS FROM SEALTHERM CORP. TODAY!! 1-(860)-480-8217

Powder Coating ovens produce so many applications to critical parts for so many markets. Sometimes plain fiberglass tadpoles aren't the prime solution for sealing doors and damper. #27 HCM and Solid 304/SS wire mesh bulbs are Silicone coated Tadpole Gaskets are rated to 500 F and are not susceptible to fibers flaking off in either a positive or a vacuum atmosphere. That's just it—no airborne fibers on your coated parts. Sealtherm can make or fabricate to any size you need.

Sealing off further thermal losses are achieved when applying our Double Bulb Tadpole Gasket Tape Profile. This also is coated to fend off errant fibers from getting into your processes. An extra Bulb provides double the thermal seal for your oven or furnaces.
Please call or email us today for your sizes and requirements 1-(860)-480-8217

NEW, NEW, NEW, and FDA Approved!! Sealtherm Corp. is proud to announce the success in the food baking markets. This PTFE Teflon® Tadpole Gasket Tape is pliable, withstands temperature up to 600 F. #702-600 is also easy to clean and resistant to many chemicals and solvents. We have over 50 happy customers using this special material on repeat orders for their new oven projects!!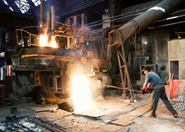 Sealtherm Corp. provides the finest high temperature products for sealing core gaskets, tadpole gaskets and silicone sleeving. Our lineup of tadpole gaskets serves many purposes. We also offer a new product called SealSleeve which is engineered for a variety of applications. Sealtherm Corp. caters to the automotive industry and painting applications by supplying custom gaskets. Sealtherm Corp.'s sealing tape has thermal resistance of 1000F and 2000F in the fiberglass gasket tape product line.
Call (860) 480 - 8217 to order your custom gaskets today!
For more details about our entire product line call or email .